towards the future of the energy systems
INESC TEC, through its Centre for Power and Energy Systems and the Energy cluster, has launched the Power and Energy Webinar Series initiative. In each webinar, a researcher from INESC TEC will present and discuss ideas, expected outcomes, or results regarding the energy systems of the future. In some webinars, external speakers will be invited. The expected duration of the webinar is between 45 minutes and 1 hour, depending on the format. Discussion between the speakers and the participants will be held in the last part of each webinar.
Data privacy and monetization in the energy sector
January 17, 2:30 PM (GMT)
Ricardo Bessa, coordinator at INESC TEC Centre for Power and Energy Systems (CPES)
Privacy-preserving federated learning for smart grids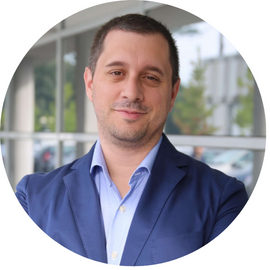 Collaborative analytics with data from different owners can lead to an improvement in renewable energy forecasting skill, but also enables the extraction of valuable information from smart meters to support low voltage control functions. This talk will present a cross-silo federated learning algorithm developed to handle private and confidential data from the energy sector and discuss its application to forecasting and control use cases in the Smart Grid domain.
Pierre Pinson, professor of Operations Research at the Technical University of Denmark (DTU, Dept. of Technology, Management and Economics)
Regression markets and application to energy forecasting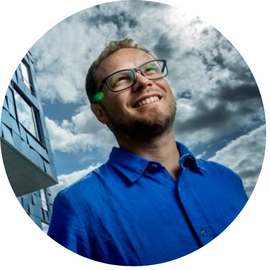 The operation of energy systems heavily relies on data, where most agents would benefit from also accommodating data (or more generally information) for other agents. There does not exist, however, a general framework that would allow incentivizing information sharing, with the general objective of improving energy system operation in a liberalized market environment. So far, data has largely been taken for granted as a free and highly accessible commodity in energy systems operations, which is in glaring contrast to the growing concern over privacy both on small individual energy user levels, and on large corporate or even national levels. We hence propose to explore designs for data marketplaces that would be relevant for energy systems. As a special case, emphasis is placed on data markets linked to specific analytics tasks e.g. regression as a support to forecasting (may be least-squares or quantile regression for instance). Our proposal specifically focuses on yielding the right market properties, e.g., to incentivize data sellers to provide high-quality data while being given the freedom to set their individual return threshold based on privacy. Meanwhile, the data buyer balances the trade-off between the payment to the data sellers and their own gain from the additional data. Those proposals are made within both batch and online learning setups, to generally accommodate different types of analytics tasks within energy system operations.
PRIVACY POLICY:
The personal data collected by answering the registration form will be used by INESC TEC, as a data controller, for the sole purpose of registration and management of the event. The data will be eliminated within 15 days after the event.
Additional information
You can contact our DPO in case you have any questions related to the processing of personal data or to the exercise of your rights through the email dpo@inesctec.pt.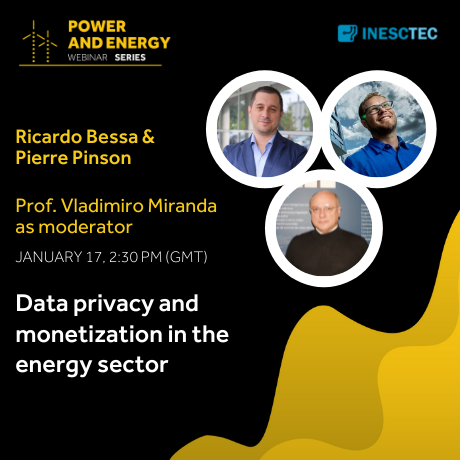 Ricardo Bessa, coordinator at INESC TEC Centre for Power and Energy Systems (CPES)
Ricardo Bessa was born in 1983 in Viseu, received the BSc (5-year) degree in electrical and computer engineering, the MSc degree in data analysis and decision support systems, and the PhD degree in Sustainable Energy Systems (MIT Portugal) from the University of Porto. He is coordinator of the Center for Power and Energy Systems at INESC TEC. His main research interests include renewable energy, energy analytics, smart grids, and electricity markets. He serves as an Editor for the IEEE Transactions on Sustainable Energy.
.
Pierre Pinson, professor of Operations Research at the Technical University of Denmark
Pierre Pinson is a Professor of Operations Research at the Technical University of Denmark (DTU, Dept. of Technology, Management and Economics). He is an IEEE Fellow and an ISI/Clarivate highly-cited researcher (2019 & 2020). He is the Editor-in-Chief of the International Journal of Forecasting. His main focus areas cover forecasting, optimization and game theory, with power and energy systems being a relevant application area. He has published extensively in some of the leading journals in Meteorology, Power Systems Engineering, Statistics and Operations Research. He has been a visiting researcher at the University of Oxford (Mathematical Institute), the University of Washington in Seattle (Dpt. of Statistics), the European Center for Medium-range Weather Forecasts (ECMWF, UK), a visiting professor at Ecole Normale Superieure (Rennes, France) and a Simons fellow at the Isaac Newton Institute (Cambridge, UK).
Full professor Vladimiro Miranda
Prof. Miranda joined INESC TEC in 1985, a top R&D institute in Portugal where he came to be coordinator of the area of Power Systems during the 90s. He was a member of the Board of Directors of INESC TEC for 18 years until June 2018, and holds presently the following responsibilities.
Full Professor (Professor Catedratico) at FEUP, University of Porto, Portugal Director-President of INESC P&D Brasil, an R&D private non-profit organization with headquarters in Sao Paulo, Brazil.
He is Associate Director at INESC TEC, International Affairs and member of the Doctoral Council of UTAD (University of Tras os Montes e Alto Douro), Portugal.
He is International Scientific Advisor for: IRESEN, Agency associated to the Ministry of Energy, Morocco; Hong Kong Polytechnic University, China; Instituto de Investigacion Tecnologica (Madrid), Spain; Instituto de Energia Electrica (San Juan), Argentina; Laboratory for Biologic and Chemical Defense of the Portuguese Army, Portugal.
He has been responsible for many research projects at international level, in the European Union, United States and Brazil, and has authored or co-authored over 200 publications, especially in areas related with Power Systems and the application of Computational Intelligence to Power Systems.
He has been a member (at times the chairman) of the organizing or scientific committees of several important conferences in his areas of expertise such as PMAPS, ISAP, IEEE Power Tech. Prof. Miranda is an IEEE Fellow. He received the IEEE Power Engineering Society Ramakumar Family Renewable Energy Excellence Award in 2013 and is a member of the IEEE Distinguished Lecturer Program.
Webinar 12
(January 17, 2022)
Webinar 11
(December 16, 2021)
Webinar 10
(November 17, 2021)
Webinar 9
(October 27, 2021)
Webinar 6
(March 26, 2021)
Webinar 5
(February 1, 2021)
Webinar 4
(November 27, 2020)
Webinar 3
(October 26, 2020)
Webinar 2
(September 14, 2020)
Send us an e-mail and we will contact you as soon as possible
PRIVACY POLICY: The webinars will be entirely recorded. The videos/images captured will only be used for promotional and informational purposes. Therefore, the Power and Energy Webinar Series can use your picture/video in publications, such as on websites, newsletters or social media platforms, among others. If you do not want your image to be stored for dissemination purposes, please let the event organisation know.