towards the future of the energy systems
INESC TEC, through its Centre for Power and Energy Systems and the Energy cluster, has launched the Power and Energy Webinar Series initiative. In each webinar, a researcher from INESC TEC will present and discuss ideas, expected outcomes, or results regarding the energy systems of the future. In some webinars, external speakers will be invited. The expected duration of the webinar is between 45 minutes and 1 hour, depending on the format. Discussion between the speakers and the participants will be held in the last part of each webinar.
Digital Twin and ML-based O&M solutions for Photovoltaic Power Plants
June 19 • 14:00 (GMT + 1) • 15:00 (CET)
AI4PV – Artificial Intelligence for the Operation and Maintenance of PV parks
Christian Verrecchia, R&D Engineer/Project Manager at EDP NEW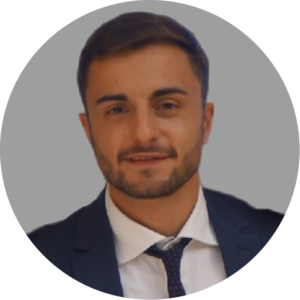 Solar energy is considered as one of the main carriers leading the energy transition. In a scenario of high penetration of PV, where plants sizes are expected to grow exponentially, it is fundamental to increase plant reliability and performance, while reducing O&M costs. A typical utility-scale PV plant has thousands of PV panels and auxiliary systems, thus early detection of faults is pivotal to avoid production losses over time. Energy production is affected by several factors such as soiling, panel degradation, inverter shutdown. However, most of these faults have the same impact on the power output, making fault detection and classification challenging. The main goal of the AI4PV project is to increase the performance of PV plants by integrating Digital Twins (DT) and Data Analytics of plant signals. This combination is key to perform an automatized Root Cause Analysis (RCA) of faults, providing accurate insights on the status of the different components. AI4PV's monitoring and fault detection mechanisms articulate over three different layers:
- DT of PV plants' components for fault detection and diagnosis.
- AI algorithms for RCA and identification of faults and underperformance.
- Decision-aid tool for preventive maintenance and prioritization of actions based on return-on-investment considering O&M costs and policies.
The framework of a digital twin of a PV inverter and their integration with ML algorithm
Louelson Costa, Researcher at INESC TEC (CPES)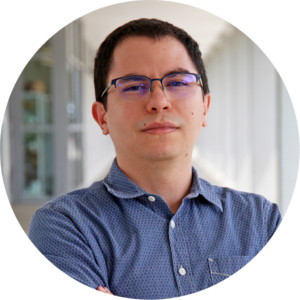 Digital twins (DT) are a powerful tool that can be applied to several areas of science and industry. Ranging from medicine to engineering, the DT allow one to explore multiple scenarios of a given asset in current or future configurations. Within the AI4PV project, a DT of a PVPP was developed, tackling the operation of the PV modules, inverter, transformer, and other electrical equipment connected to those components. The synthetic data generated by the DT combined with the real data retrieved from the SCADA system can be fed to ML algorithms for pattern recognition to develop fault and failure classification and diagnosis. In this webinar, a brief definition of DTs followed by a discussion about the PV inverter is carried out, finishing with the integration of the synthetic dataset with the classification ML algorithms and the whole DT framework.
PRIVACY POLICY:
The personal data collected by answering the registration form will be used by INESC TEC, as a data controller, for the sole purpose of registration and management of the event. The data will be eliminated within 15 days after the event.
Additional information
You can contact our DPO in case you have any questions related to the processing of personal data or to the exercise of your rights through the email dpo@inesctec.pt.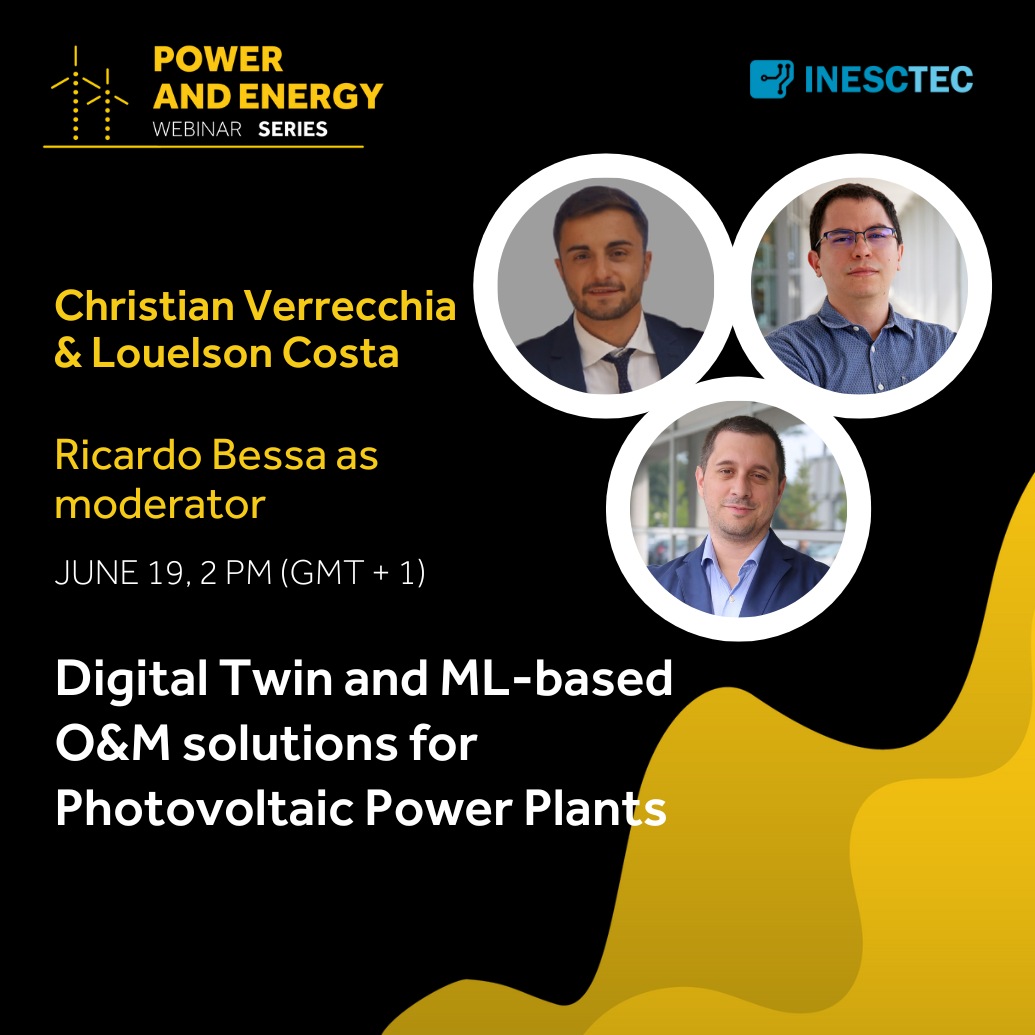 Christian Verrechia, R&D Engineer/Project Manager at EDP NEW
Christian Verrecchia holds a master's degree in Electrical Engineering from University of Cassino and Southern Lazio. His background is in Renewable Energy, Power Electronics, Machine Learning and AI applied to Renewable Technologies. He has 5+ years of experience in RES technologies with a focus on O&M optimisation strategies, Data Analytics, AI and Economic Analysis. Currently he is the Coordinator of the AI4PV project where he co-developed several Digital Twins and AI solutions for the O&M of PV parks.
Louelson Costa, Researcher at INESC TEC Centre for Power and Energy Systems (CPES)
Louelson Costa (Member, IEEE) was born in Bananeiras, Brazil. He received a B.S., M.Sc., and D.Sc. degrees in electrical engineering from the Federal University of Campina Grande (UFCG), Brazil, in 2014, 2016, and 2020, respectively. From August 2018 to July 2019, he was at the Center for Power Electronics Systems (CPES), Virginia Polytechnic Institute and State University (VT), Blacksburg, VA, USA, as a Visiting Scholar. From January 2020 to April 2021, he was at the Department of Computer Engineering and Automation (DCA), Federal University of Rio Grande do Norte (UFRN), Brazil, as a Temporary Professor. Since August 2021, he has been with the Centre for Power and Energy Systems (CPES), Institute for Systems and Computer Engineering, Technology and Science (INESC TEC), Portugal, as a Researcher. His research interests include power electronics, renewable energy systems, and AI applied to power electronics.
Ricardo Bessa, INESC TEC Centre for Power and Energy Systems (CPES) coordinator
Ricardo Bessa was born in 1983 in Viseu, received his Licenciado (five-year) degree from the Faculty of Engineering of the University of Porto, Portugal (FEUP) in 2006 in Electrical and Computer Engineering. In 2008, he received the M.Sc. degree in Data Analysis and Decision Support Systems on the Faculty of Economics of the University of Porto (FEP). He obtained his Ph.D. degree in the Doctoral Program in Sustainable Energy Systems (MIT Portugal) at FEUP in 2013. Currently, he is a Senior Researcher and Area Manager at INESC TEC in its Center for Power and Energy Systems.
His research interests include renewable energy forecasting, electric vehicles, data mining and decision-making under risk. He worked in several international projects. At the national level he participated in the development of renewable energy forecasting systems and consultant services about energy storage.
Webinar 17
(January 31, 2023)
Webinar 16
(November 24, 2022)
Webinar 15
(October 27, 2022)
Webinar 14
(September 29, 2022)
Webinar 13
(July 14, 2022)
Webinar 12
(January 17, 2022)
Webinar 11
(December 16, 2021)
Webinar 10
(November 17, 2021)
Webinar 9
(October 27, 2021)
Webinar 6
(March 26, 2021)
Webinar 5
(February 1, 2021)
Webinar 4
(November 27, 2020)
Webinar 3
(October 26, 2020)
Webinar 2
(September 14, 2020)
Send us an e-mail and we will contact you as soon as possible
PRIVACY POLICY: The webinars will be entirely recorded. The videos/images captured will only be used for promotional and informational purposes. Therefore, the Power and Energy Webinar Series can use your picture/video in publications, such as on websites, newsletters or social media platforms, among others. If you do not want your image to be stored for dissemination purposes, please let the event organisation know.